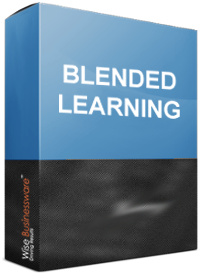 Blend Learning
As digital technology has provided more avenues for delivering instructional material, the use of and advantages of blended learning has become increasingly more apparent.
Blended learning can be defined as an informal style of instructional program where the student learns a single subject using a variety of instructional methods/materials, such as websites, brick-and-mortar classrooms, virtual classrooms, job aids, books (physical or digital), hands-on experience, and simulations. Blended learning is also known as hybrid or mixed-mode instruction.
In order to make blended learning a powerful instructional strategy, it must be well balanced between the advantages for the student (learner) and the learning objectives set forth by the instructor. Blended learning can offer learners the freedom and convenience to pick and choose how and when they want to learn. It can be as simple as learning a single topic by combining two instructional materials such as a virtual classroom and reading an ebook, or more complex by using all of the above instructional material methods for the purpose of obtaining a degree.
Relating Blended Learning to Business
To make a blended learning strategy effective and convenient to the learners in your business, a wide range of instructional tools must be implemented. This means both traditional and non-traditional sources of information will need to be merged to establish a well rounded learner-centric approach. There are two primary methods of instruction that come from this approach:
Synchronous Instructional Method (more traditional) - The instructor and learner(s) are in the same location at the same time. Learning tools include a traditional classroom, virtual classroom, hands-on product practice, mentoring or coaching, and interactive chat.


Asynchronous Instructional Method (more self directed) - The instructor and learner(s) are not available at the same time. Learning tools include web-based training (WBT), computer-based training (CBT), web sites, CD-ROM/DVD, surveys, simulations, assessments, tests, and recorded live events.
Additional Observations of Blended Learning
Several studies, including a report from the U.S. Department of Labor Statistics concluded that as much as 70 to 90% of workplace learning occurs informally in some fashion or another. However, most corporate training programs focus their resources primarily on formal learning. A blended learning approach could help to more balance the area of focus when it comes to formal vs. informal.